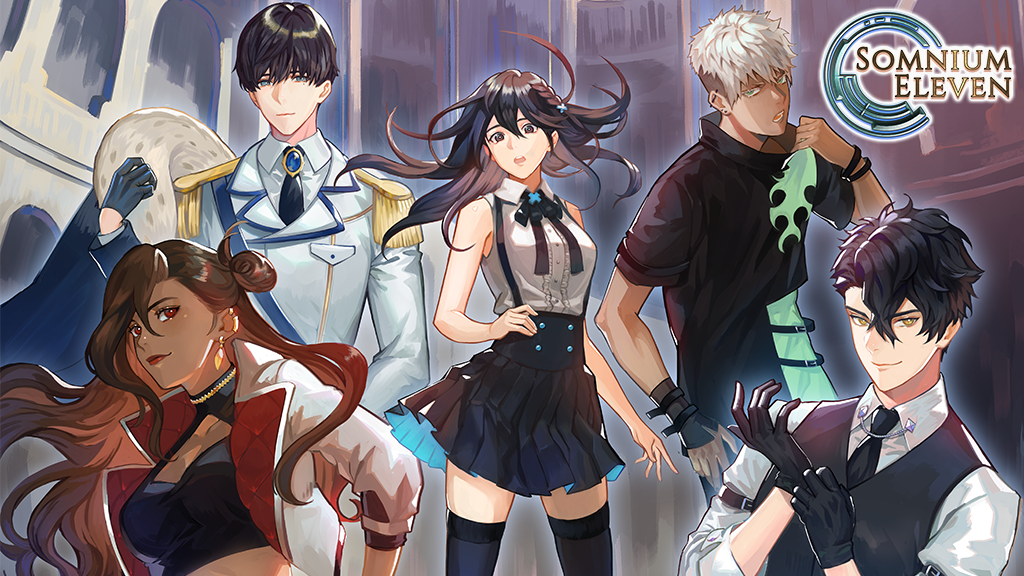 Somnium Eleven
Note: See the Mini-game Demo section for more information about this demo.
A choice-driven, magitech isekai visual novel (GxB/GXG) featuring in-game social media and an intricate romancing system!

Read more about Somnium Eleven on:


THIS MINI-GAME SHOWCASES ONLY ONE OF THE GAMEPLAY MECHANICS TO BE INCLUDED IN THE GAME. PLEASE SEE THE FULL GAME FEATURES LIST FOR VISUAL NOVEL ELEMENTS AND GAME FEATURES.
Our dev team has mocked up one of the mini-games that represents one of the three trials that will occur in the gameplay. Please note that this is a working prototype and has not been skinned with the game artwork yet.
We not only will clean up the gameplay so it runs smoother & is bug-free on mobile phones, but also will be adding additional bells & whistles to the mini-game to make it more challenging and intriguing.
Key takeaways from the demo:
In-mini-game interaction with characters: players will be able to run into side characters and romanceable characters during the mini-games.
In the full production version of the game, players can choose whether to participate in the events or not at their own peril. During the gameplay, the events will be determined to be positive or negative based on their character interactions
Demo scripting is to show an example of visual novel-like interaction. Actual production will be more robust
Graphics are prototype graphics
Gameplay is simplified but we plan to have additional features to make the mini-game more intriguing in the actual production version
Please note: the webGL version of the mini-game demo does not support Safari nor mobile phones as it is meant for PC demo play. We recommend using Chrome or Firefox on PCs instead. Thank you for your understanding!


In the middle of a school exam, jaded student Aria awakens to find herself in a mysterious colossal empire where magical technology thrives, and its citizens whisper legends of a patron god who watches over their world. To her surprise, she has already been selected as one of the candidates to compete to replace the imperial prince Soren, whose days are numbered as the result of an unfortunate magical accident.
As per the empire's decree, the candidates must undergo three perilous trials to prove their wits and merits to ascend the throne should they survive. Competitors hail from all parts of the empire with aspirations of their own.
Faced with no other choice, Aria must now strive to train alongside other competitors, build her arsenal to gain support from the people, and use her wits to win the title as ruler for the only way to return home lies in the powers vested in the throne.

Full Game Features:
Networking game - meet a colorful cast of side characters and unlock friendships & romance
Daily Actions - make decisions on where you would like to go (based on a game world time - not tied to real time)
Stat Raising - make decisions wisely to unlock game scenarios and raise supporting stats for the three perilous trials to become the "Sun of the Empire"
Mini-games - win mini-games to continue on your adventure
15+ hours of gameplay
At least 30 CGs to unlock - maybe more depending on stretch goals funding!
At least 12 different locations (i.e. backgrounds) to explore and meet characters at - maybe more depending on stretch goals funding!
In-game Social Media interaction with the characters
Editable MC name
See FAQ for additional info on gameplay such as stats